INTRODUCING THE NEWTON SANITIZING MULTI-PURPOSE POUCH
A SOLUTION TO HELP PRESERVE YOUR HEALTH AND AUTONOMY
Whether you are a wheelchair user or a caregiver, hand washing is essential to fight against viruses such as COVID-19. The Newton Sanitizing Multi-Purpose Pouch is the solution to have everything you need on hand to help you stay virus free and healthy everywhere you go!
HEALTH WITHIN REACH
The easy-access Newton Sanitizing Multi-Purpose Pouch is made of fabric and features two compartments: one to receive a sanitizing bottle (included) and another enclosed space to carry personal items. The pouch is designed to be easily installed on the front part of a wheelchair and helps wheelchair users and caregivers to stay safe and healthy.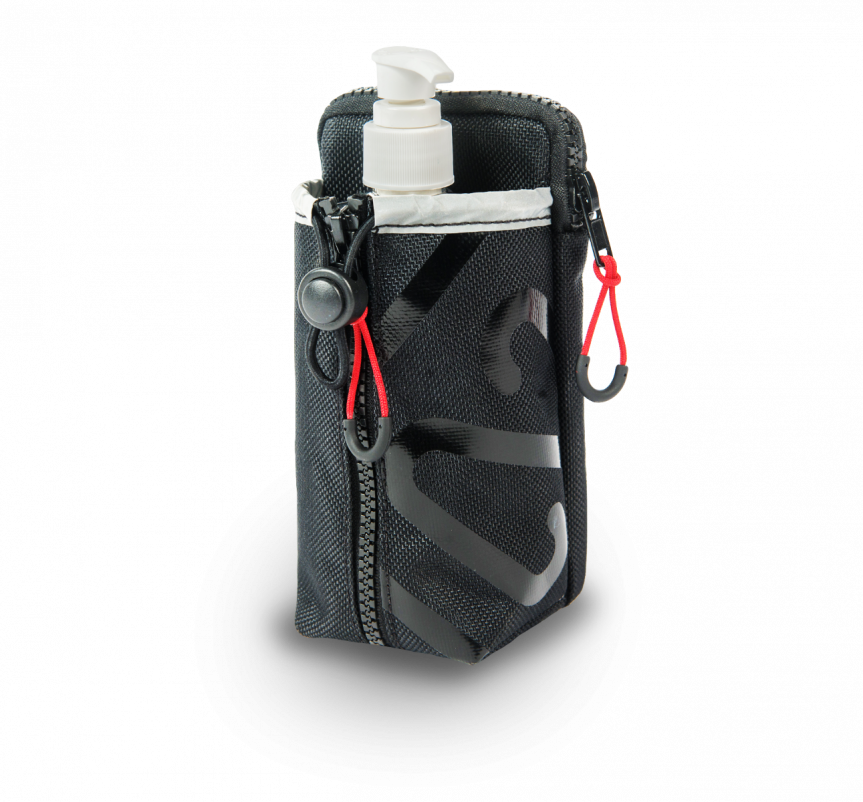 Benefits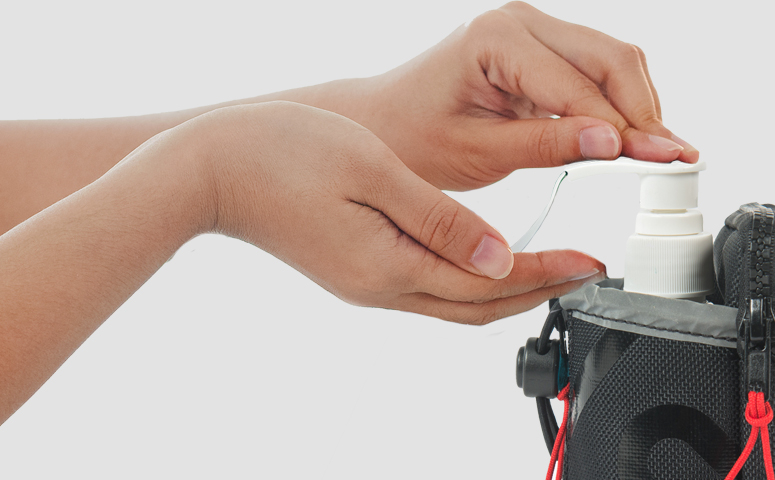 A STRESS RELIEVER
Being able to frequently hand sanitize while on the go is a great way to help prevent contamination thanks to the Newton Sanitizing Multi-Purpose Pouch. It makes it a little less stressful to go out in a wheelchair.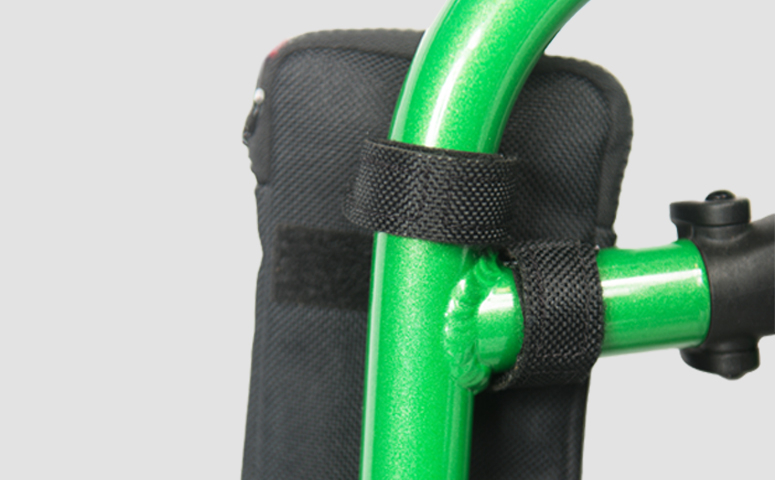 DESIGNED FOR WHEELCHAIRS
The Newton Sanitizing Multi-Purpose Pouch is an integrated and easy-access sanitizing storage accessory designed specially to fit on Motion Composites wheelchairs but can also fit on other wheelchairs. It's easy to install thanks to the adjustable Velcro straps.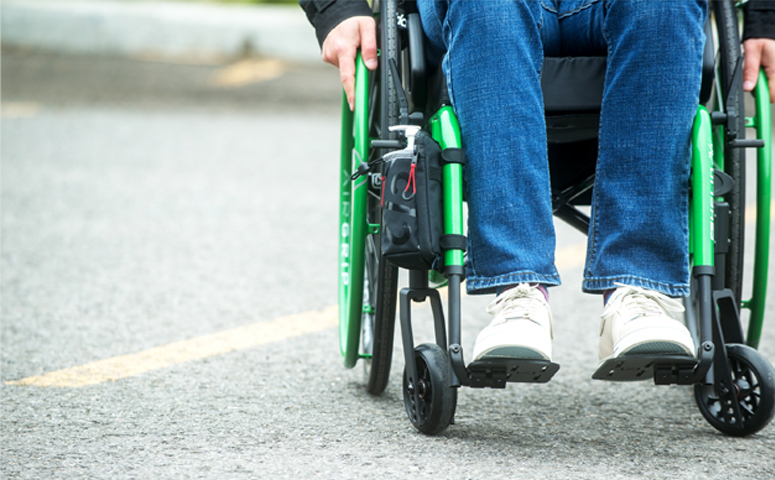 ACCESSIBILITY IS KEY
The Newton Sanitizing Multi-Purpose Pouch can strategically be mounted on the footrest of a folding wheelchair and on the front frame of a rigid wheelchair for an easy access to the pouch's compartments and quick use of the sanitizing gel. It's all within reach!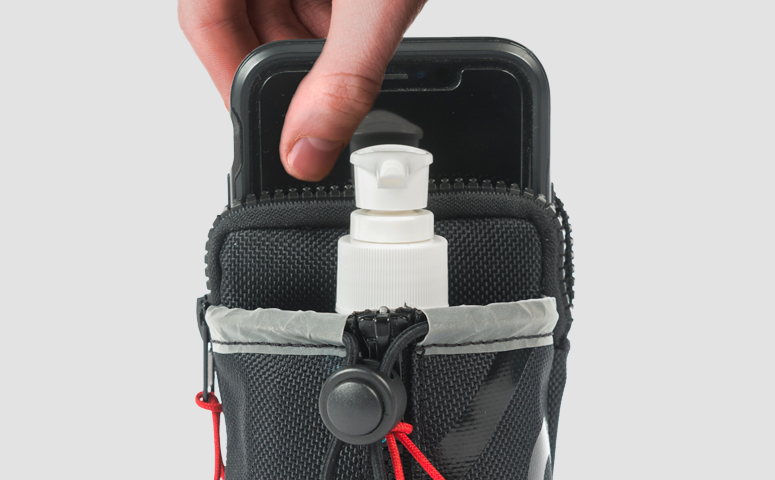 A MULTI-PURPOSE ACCESSORY
The Sanitizing Multi-Purpose Pouch allows you to carry not only the liquid hand sanitizer bottle (included) but also your cell phone, wallet and personal small items. If the sanitizing bottle is removed from the compartment, the pouch can also be used as a cupholder.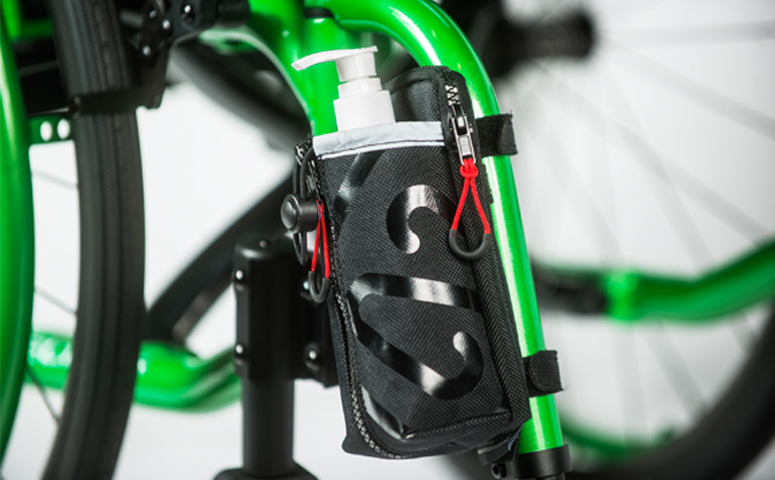 STYLE MATTERS
We strive to develop elegant accessories for your wheelchair that reflect who you are. Attractive and stylish, the Newton Pouch is no exception and truly offers some kick to your wheelchair. An added reflective strip on the pouch makes you visible at night!
Ready to order?
The Newton Sanitizing Multi-Purpose Pouch can be ordered through our wheelchair order forms or simply by reaching out to your local provider.
Need a little help?
Here are the instructions on how to install the Newton Pouch on a folding or rigid wheelchair.
Looking for more?
No matter what you need, we've got you covered with a variaty of wheelchair options and accessories.