Newton wheelchair parts
Newton high-performance wheelchair components are born from our desire to abolish the status quo. The wheelchair industry is evolving and mobility and adaptability needs are increasingly being voiced. That's why Newton reinvents part and accessory options for wheelchairs, to offer users an improved version. High-end performance and design, innovative technology and materials. A single glance will tell you it's a Newton-quality component and once you try it, you won't ever choose another brand.


Ready to order yours?
Contact us or reach out to your local Motion Composites provider.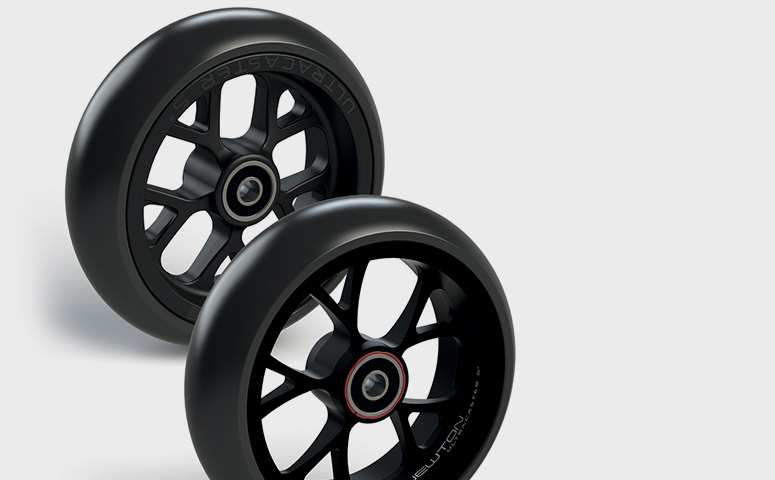 Newton Ultracasters, front casters
When it comes to overall energy efficiency and comfort, every detail counts—especially where the rubber hits the road. That's why we engineered Newton Ultracasters for reduced rolling resistance, giving you greater speed, comfort and mobility. Plus, it's a Newton component, which means sleek design and flawless functionality. These ultralight wheelchair casters come in composite or 6061 T6 aluminum, in 4", 5" or 6" diameters.
Improve wheelchair's agility
Head-turning style with impeccable design
Available in composite or aluminum
Patents 158762, 002656819-0001, D779389  
Patent pending 29/590253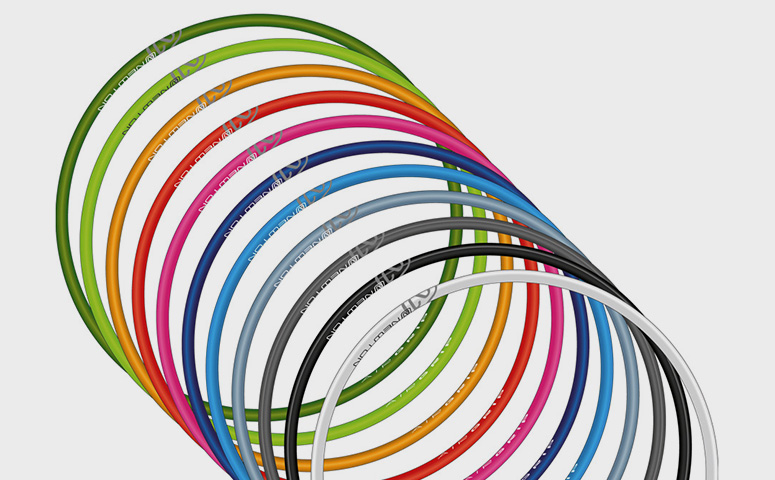 Newton Air grip handrims
Newton offers another way to lighten your wheelchair while adding a splash of color and personal style. Newton Airgrips boast a coating that doesn't crack or peel, making them easy on the hands. They're also ultralight: 1 lb. (440 g) lighter than standard grips. Airgrips offer greater mobility, superior added friction on hands and are available in 19 eye-popping colors.
Added and improved friction
Won't peel or crack
Available in 19 awesome colors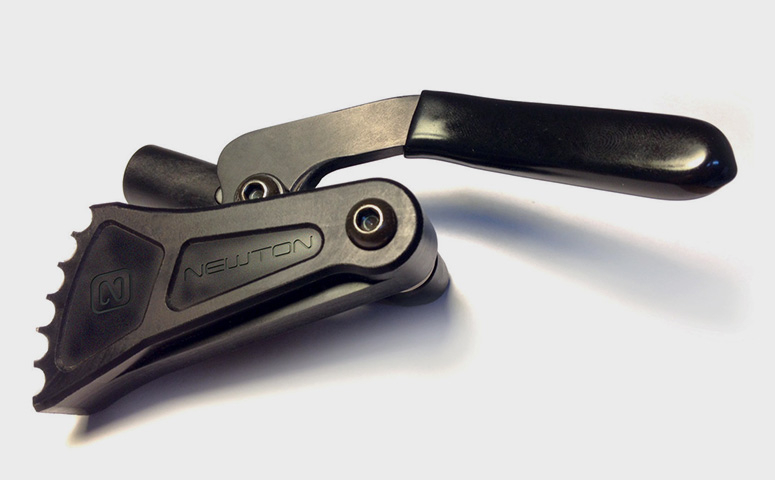 NEWTON GRADE AID WHEEL LOCK
Only Newton could pack so much convenience and functionality into such an ingenious device. The remarkable Newton Grade Aid Wheel Lock not only gives you wheel lock, freewheel and grade aid functions in a single unit, it's also an incredible 30% lighter than its competitors, with a subtle design. As you'd expect from Newton, we've totally reinvented an industry-standard device.
Safe to use, it automatically disengages before your thumb gets hurt
Three-in-one system that weighs only 156 g vs. 225 g for conventional systems
Practical, its low handle height enables smooth and unobstructed side transfers
Ingenious locking mechanism that works first time, every time. No need to adjust and readjust
Patend pending PCT/CA2016/050243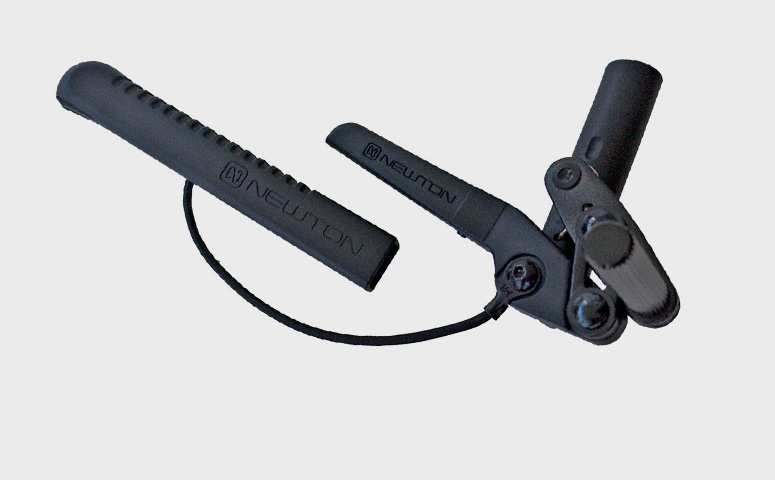 NEWTON WHEEL LOCK
With repeated use, standard wheel locks will eventually loosen and fail. Not ours. Newton Wheel Locks feature an ingenious spring mechanism that's significantly more durable and functional than a standard wheel lock. Plus, they're engineered from composite materials, so you save 1.3 oz. compared to their aluminum counterparts. Newton Wheel Locks: the lighter, more secure, more durable solution.
Ultralight composite construction: 1.3 oz. (38 g) lighter than conventional wheel locks
Spring mechanism engineered for greater reliability
Resists loosening over time
Also available with 6" extension handle
NEWTON FOOTPLATES
Newton's footplates were created to meet a need without sacrificing style. Whether you opt for our lightweight carbon footplates, our depth-adjustable T6 aluminum footplates or our ultra-stable composite footplates with rubber inserts, they will add a little je ne sais quoi to your chair that will make all the difference!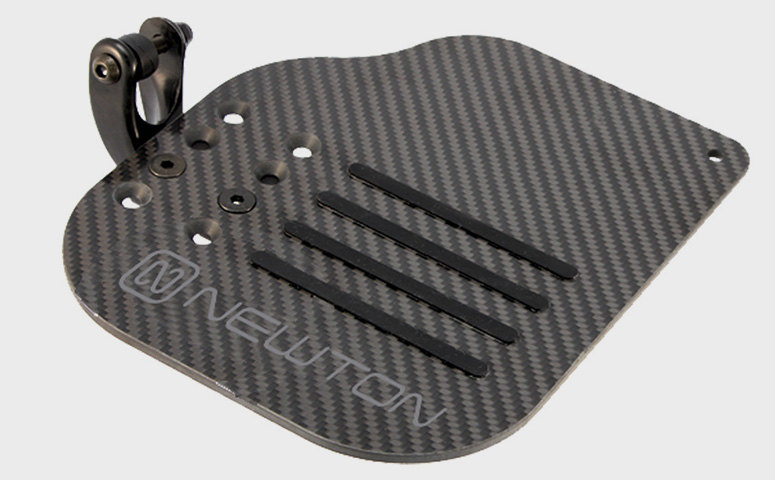 CARBON FOOTPLATE – The finest footplate
Lightweight carbon fiber with rubber inserts
Angle-adjustable
Available in small, medium or large
3" of depth adjustability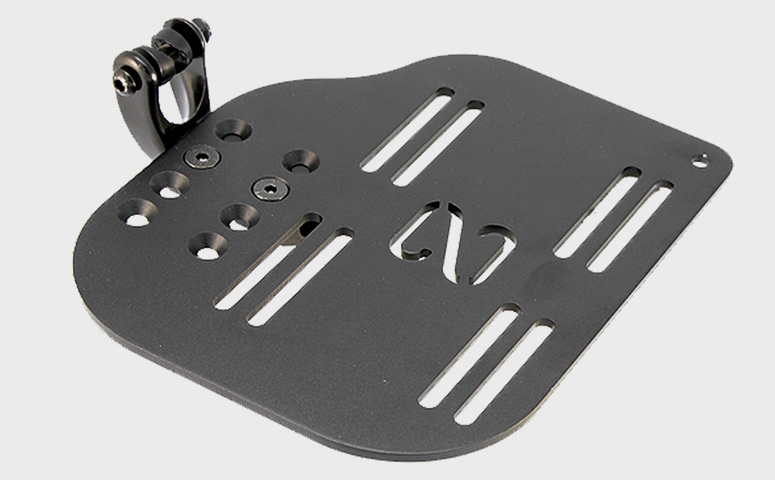 ALUMINUM FOOTPLATE – Ultralight and good-looking
6061 T6 aluminum
Angle-adjustable
Depth-adjustable
Available in small, medium or large
3" of depth adjustability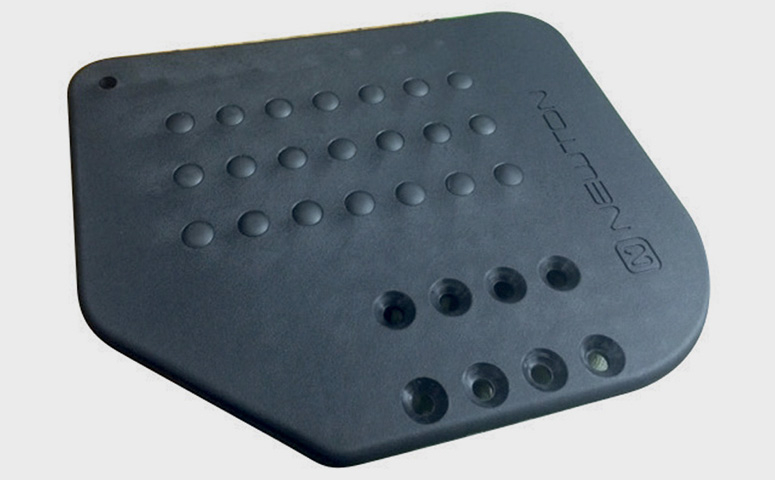 COMPOSITE FOOTPLATE – Step up to higher performance
Lighter material
Rubber inserts bump up traction and safety
High design aesthetics enhance overall appearance
Available in small, medium or large
3" of depth adjustability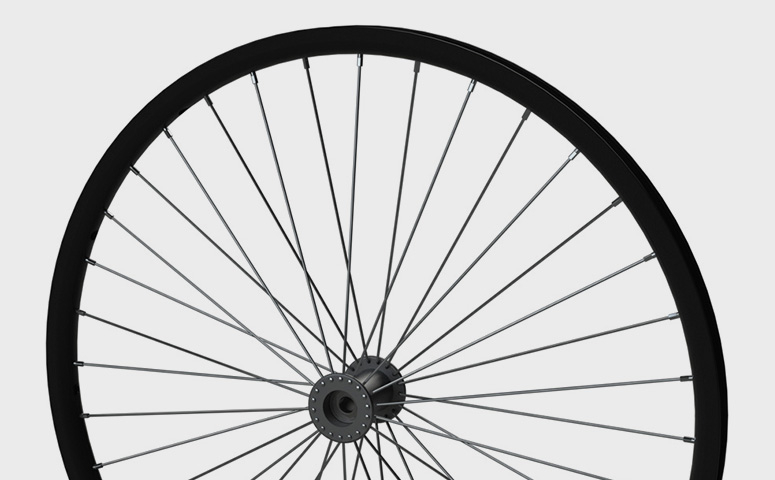 Newton One Wheels
The very first wheel that lets you remove or adjust the hand rim without having to remove the tire. Our ingenious insert secures the hardware under the rim instead of under the tire, making chair adjustments breathtakingly simpler, faster and more efficient. With the Newton One, you can expect high-performance features such as durable single-wall alloy construction, stainless steel spokes and attention-grabbing design.
Offered in 20", 22", and 24" sizes
High-strength single-wall construction
Stainless steel spokes and squared spoke heads deliver optimal durability
Accommodates all type of pneumatic tires
Innovative spoke head locking system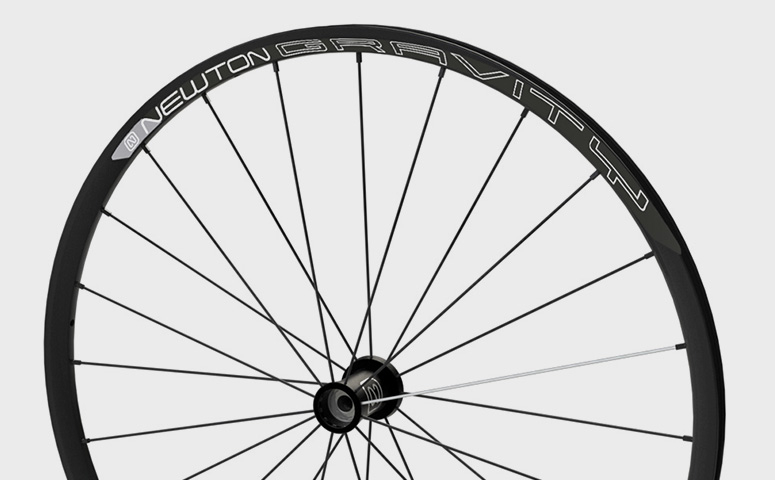 Newton Gravity Wheels
The Newton Gravity Wheel redefines high-performance for pneumatic tires. At just 670 g for a 24" wheel, our superlight alloys wheels deliver on straight-ahead speed and nimble handling. Thanks to the double-walled rims, stainless steel spokes and squared spoke heads, you get greater durability and maximum stiffness for a more responsive ride. As for looks, every sleek square inch delights the eye.
Available in 20", 22", 24", 25" and 26" sizes
Durable double-wall construction
Stainless steel spokes and squared spoke heads deliver optimal durability
Accommodates all type of pneumatic tires
Innovative spoke head locking system
Cool matte black finish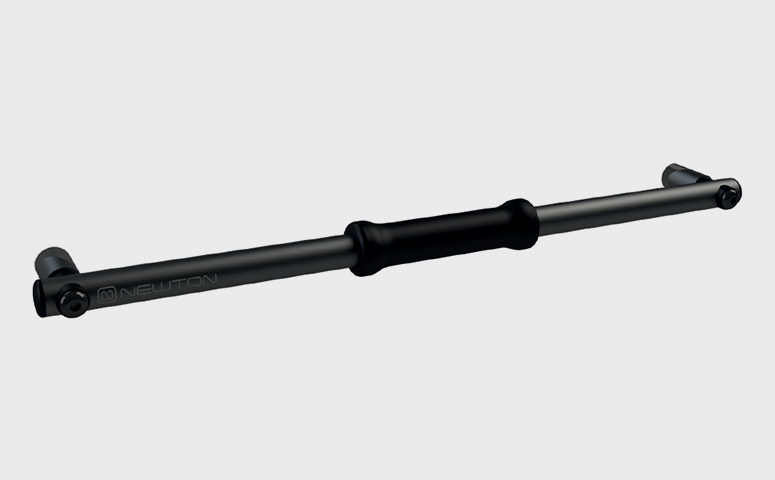 Newton Stabilizer Bar
Where conventional stabilizer bars require two hands to operate, the ingenious Newton Stabilizer Bar requires just one. Its easy slide mechanism releases the chair for faster folding and storage. Great for users who might lack the strength or dexterity to manipulate conventional systems, as well as any user who simply wants a faster and more convenient solution. The Newton Stabilizer Bar is sleekly designed for superior aesthetics and functionality.
Ingenious and unique mechanism
Easy slide mechanism for single-hand release and locking
Sleek low-profile design
Safe and sure locking mechanism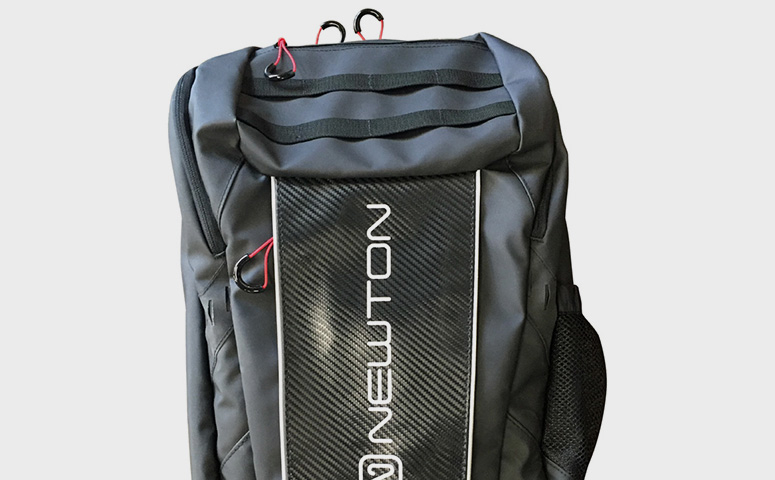 NEWTON BACKPACK
Designed for wheelchairs and for easy compartment access, the Newton backpack is practical, well adapted, strong and durable. All the features you want for everyday use.
Designed for wheelchairs
Adjustable and retractable dual-strap design
Oversized zipper pull loop
Easy-to-access compartments
Reflective strips and logo
Weather-resistant
60% polyester, 40% nylon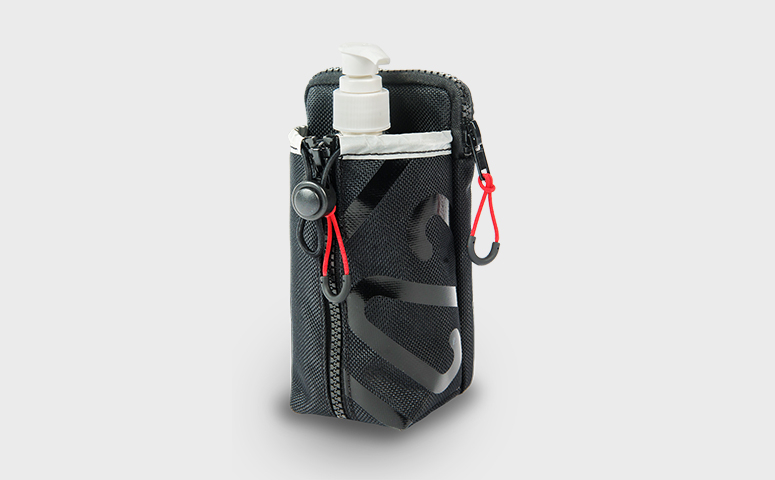 NEWTON SANITIZING MULTI-PURPOSE POUCH
The Newton Sanitizing Multi-Purpose Pouch is the solution to have everything you need on hand to help you stay virus free and healthy everywhere you go!
Designed for wheelchair (rigid and folding)
Easy to install thanks to the adjustable
Velcro straps
Hand sanitizer gel bottle (included) fits in the
front compartment
Zipped compartment to carry personal items
(cell phone, wallet, etc.)
Oversized zipper pull loop
Reflective strip
82% polyester, 17% nylon, 1% spandex